Rock Climbing Tonsai and Railay Beach- Krabi Thailand
---
The Rock around Tonsai and Railay Beach
The rock is all limestone and is part of the worlds largest coral reef, stretching from China down to Papua New Guinea. The routes are all bolted sport climbing routes. The French grading system is used. With over 700 routes ranging from beginner 5a's to classic multipitch 6a's right up to the extremes of 8c there's enough here to keep any climber busy.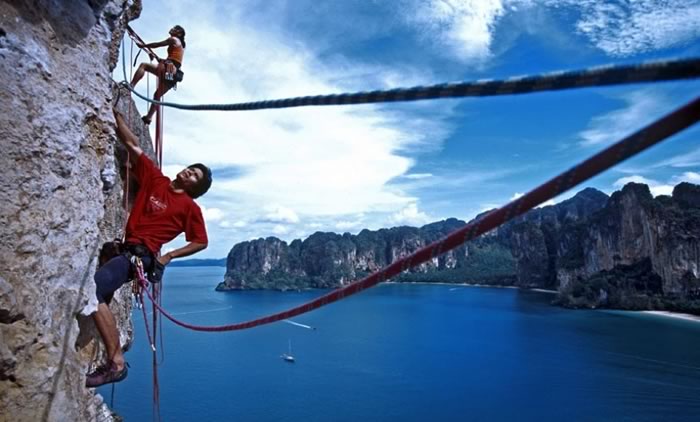 Getting high on Thaiwand wall- Railay Beach and Tonsai in the background
Climbing Courses and Guiding in Railay and Tonsai
King Climbers is one of the longest running climbing schools. Over the years they have built up a reputation of being friendly safe and reliable. Book Climbing Courses here. If you are looking for one on one tuition, get private guiding/ coaching.
Deep water soloing and Bouldering
Deep water soloing (DWS) has really taken off this year. We've put a page on DWS and a page on bouldering around Railay and Tonsai beach. If you have anything to add, please email us.
Climbing on Koh Yao Noi island
This place now has alot of very good routes- Only a one hour speed boat ride from Tonsai... Check out our page
Dave/ yogic master/ climber/ top bloke, has set up a Yoga retreat on Koh Yao Noi not to be missed- check out his site for details
Rebolting Tonsai
There has been a herculean effort by a hand full of very dedicated irregulars, fighting the obscenely corrosive forces of nature which have in the past been able to eat any kind of steel known to man. The guys have concluded that our only chance was an elemental switch to Titanium. Expensive, but when you are hanging upside down by your toenails 200m above the deck, there can be nothing sweeter...
The latest attempt to organise the rebolting into a cohesive sustainable force of rebolting goodness is being spearheaded by Josh- He's set up a site dedicated to rebolting Krabi- http://thaitaniumproject.com/
It's a fund raiser site, and probably the best place to donate cash at the moment. He has made a very nice video of rebolting and climbing in Thailand and is selling DVD's and Tshirts to fund the bolting. Checkout the taster below-
Yoga on Tonsai Beach
There is great yoga studio next to Paasook guest house in the middle of Tonsai. There are usually a smorgasbord of classes throughout the day. The Schedule is written on the chalk board outside the studio.
Gossip of the wall/ mega hotel complex
In 2015 the owners of the large block of land on the beach, built a wall around it and kicked out all the various bars squatting there. This was a shame, but on the plus side the land had become a rubbish tip and they spent the next few years cleaning it up. Finally after changing hands a few more times, the latest owners have finally built on it. Far from the predicted mega resort, a very modest number of bungalows have been built in quite a nice way. The resort is called Tinidee. They have actually finished it, which we thought would never happen, The resort is astonishingly popular with the instagram Thai crowd- so popular you will struggle to get a booking. The pool is tiny, but it does make great pictures!
There is now a path through the resort which leads to a very nice ladder, created by Basecamp- which allows easy access over the wall.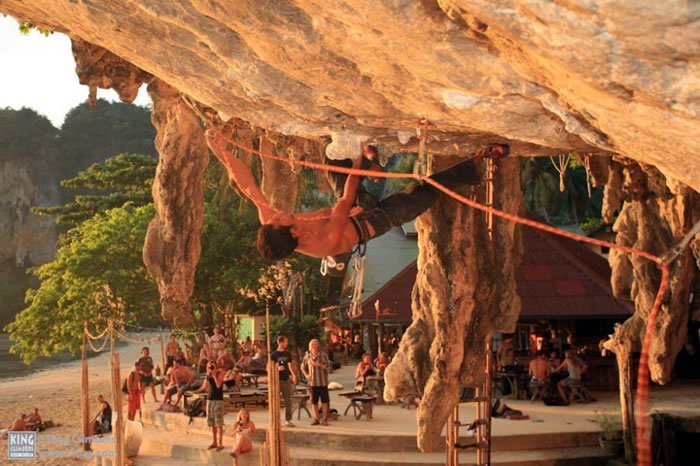 Steep and technical routes are on Tonsai beach
Railay and Tonsai Interactive Google Climbing Map
Just finished an interactive map that lets you click on a climbing area and zoom in for more information and pictures. View the map of Tonsai and Railay here.
Accommodation and how to get to Tonsai and Railay
Details for accommodation, diving, sea kayaking, jungle trekking, cooking, elephant trekking and snorkeling, can be found in this section of the site.
Gallery of pretty pics and trips
Have a look in our photo gallery for pretty pics of famous people doing silly things. I really like the floating village trip pics. Just added a Tonsai favorite climbs page. If anyone has a favorite with some pics, let us know.
Also check out the Railay/ Tonsai flickr slide show- tons of your great pics there!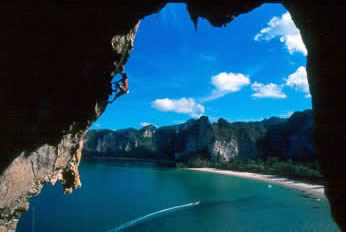 Thaiwand wall 6c, Railay Beach in the background- classic stuff...