Ao Nang Elephant Trekking
---
Quick update 2020 Krabi Elephant House Sanctuary
I've recently come accross the Krabi Elephant House Sanctuary. I have not been here myself, but have heard good things about them. They offer a different slant to the elephant trek- in that instead of riding on the elephant, you spend time caring/ feeding/ walking with the elephants. This is rather more appealing to me personally...
Original Nosey Parkers elephant treck
We've resisted putting up elephant trekking for a while now, but had a change of heart due to popular pressure. The clincher was enjoyment the little ones got out of it. This is a special experience for kids. Riding through the jungle on the back of an elephant is not forgotten quickly.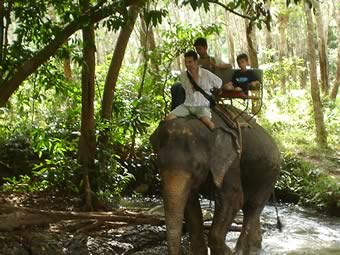 Nosey Parkers elephant camp established in 1999 is a 7km car ride from Ao Nang Beach. The camp is located in a shady forest area with abundant of water for the animals to enjoy all year round. Your elephant trek will take you across the river that runs through the camp and into the forest. While walking through the forest you will see and hear the surrounding wildlife...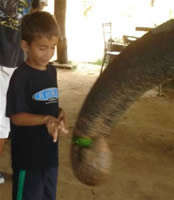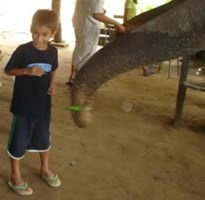 The elephants love children and food...
Nosey parkers is a well run operation and the owner takes good care of each of his elephants. The elephants eat an enormous amount, on average each one eating $500.00 us dollars a month and $500 buys an unbelievable amount of food in Thailand..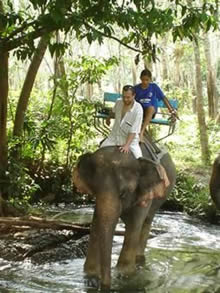 When they are not eating, the elephants are well treated and have a lovely environment to live in. They are well accustomed to people and are very friendly to young children.
If you are in a hurry you can take a 1 hour elephant ride. If you want to make a day of it you can take your time on the half day tour.
Program 1 – Elephant ride
One hour elephant ride
Swim and relax in the beautiful river that runs through the camp
Nature walk
Includes pick up from AoNang
Adults 800 Baht
Children (4-14 years) 400 Baht
Morning rides
9 am, 10 am, 11 am
Afternoon rides
13.00 pm, 14.00 pm, 15.00 pm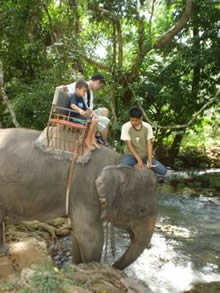 Elephant trekking in the jungle around Ao Nang
Program 2 – Half day tour
Two hour elephant ride
Swim and relax at Tha Pom
Nature walk into the jungle
Thai style lunch (riverside restaurant)
Adults 1,650 Baht
Children (4-12 years) 850 Baht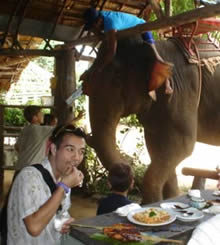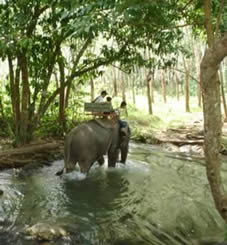 The lunch on the half day tour may end up getting shared with the elephants if your not quick!
I highly recommend both these trips. When ever we have family and friends visiting us here in Krabi its on the list of things to do. Our son Aaron loves the elephants and is a big fan.
Robin, King & Aaron
We went to Nosey Parker and it was Fantastic.
Excellent service, incredible kind and friendly people. It was one of the highlights of our vacation. Sack and Dam and the rest of the crew were amazing. Please pass along our enthusiasm and appreciation.
Thanks!
Claire and Paul
Booking
---
There are now several options for this activity available and there are many agents in Ao Nang, Railay and Tonsai who can make a booking for you.

Rather then arranging bookings in advance through our website, we have found that you will be better off just turning up in Railay and planning/ arranging these activities locally a couple days before hand