King Climbers Railay Rock Climbing Courses
---
King Climbers has been established for over twenty five years. We offer a wide range of courses to meet all levels of climbing ability. It doesn't matter how old or young, unfit or uncoordinated, our instructors will find something you'll enjoy climbing. If you are looking for one on one tuition or coaching, you can hire a
private guide.
We offer three standard courses (see below). These courses are geared for complete beginners and intermediate climbers. If you are interested in doing something else, or wish to extend a course, then we will be more then happy to accommodate you.
Courses start at 9am or 2pm on Railay beach. Pickup times for the courses are 8am/ 1pm for Aonang, or 7:30am/ 12:30pm for Krabi and Klong Muang.
Hotel pick up and drop off from the Krabi/ Ao Nang area and the boat ride are free, just let us know where you are staying.
We can also arrange pickup from Klong Muang for 200 Baht per person.
Once we have recieved your booking we will send you an email confirming with a secure Paypal link and invoice so you can easily pay.
Half Day Courses:
---
This is a perfect introduction to climbing. If you are a beginner and would like a really fun taste of what climbing is, then this is for you!
Top rope climbing in paradise! (an introduction to climbing for the beginner)
Basic safety instruction
Fruit and water
Cost: 1200 Baht per person
One Day Courses:
---
This is a great way to see a bit of Railay and get more of a feel for climbing. If you are a beginner and want a fun day out you will enjoy this course.
Top rope climbing at two locations on Railay Beach
Safety Instruction
Rappelling/ Abseiling
Lunch and water
Cost: 2000 Baht per person
Three Day Climbing Courses:
---
So you wanna learn how to climb? Then this is the course for you! This is my favorite course as you get to know your guide and set yourself up for a lifetime of safe climbing. It really packs in a lot in just three days! The course will give you the skills and confidence to go out on your own with a partner and climb safely. You will even be able to do multi pitch climbing!
Self rescue, and rope technique
Top rope climbing
Rappelling
Lead climbing
Multi-pitch climbing
Copy of our course booklet
Certificate and T-shirt
Lunch and water
Cost: 6 500 Baht for one person
Discounts for larger groups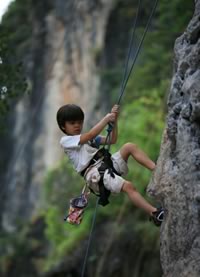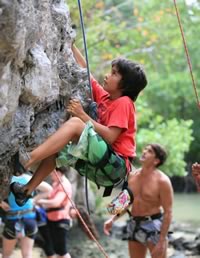 Climbing course details
---
Equipment
The courses include our guide and all equipment and insurance. The only thing you need to bring is your camera! We keep our guide to student at one guide with no more than four students ensuring high teaching standards.

For those who are not familiar with climbing here is a brief explanation of some of the terms used to describe the courses:
Top rope climbing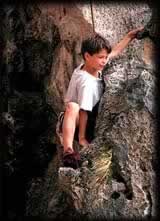 This is the way you will start out climbing. Your instructor will first climb to the top of the route and loop the rope through a fixed anchor. Once back on the ground you will be attached to one end of the rope which runs through the anchor at the top of the climb and back down to the instructor. A belay device is a fail-safe device which lets the instructor keep your rope tight. While you climb the instructor tightens the rope, keeping it firm so that if you slip you are safe, or if you get tired you can let go and be suspended in your harness in complete safety.
This is a great way to learn which leaves you plenty of time and energy to concentrate on climbing or to simply enjoy the view.
Lead climbing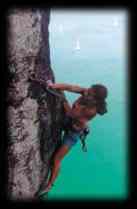 We only teach lead climbing on our three day courses. Lead climbing means that the student has to climb up with the rope clipping it into carabiners as they go. This allows the student to feel the thrill of all aspects of the sport as well as giving the confidence to be able to go out and climb with friends after the course.
In Thailand all leading is done on titanium bolts that have been drilled and glued into the rock. The lead climber on ascending the route clips onto the bolts and clips the rope through quick draws. This is the safest and easiest way to lead a climb. Due to the nature of limestone rock all routes are bolted and therefore we are unable to offer any courses on natural protection climbing.
Rappelling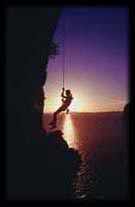 Rappelling, also known as abseiling, is a means by which climbers lower themselves off the rock. Climbers put the rope through a belay device attached to their harness. They then slide down the rope using the belay device to control the speed of their descent. This not only makes for good pictures but is great fun!
Safety
We have never had an accident on one of our courses, and we'd like to keep it that way. However this doesn't mean we aren't prepared. All of our instructors are trained in first aid and rescue and we provide insurance for the duration of our courses.
To book a course please select the booking forms option from the menu. If you have any questions or problems please don't hesitate to e-mail us at kingclimbersteam@gmail.com
Hope to see you on the rock...