Climbing Thailand - Re-Bolting Information

---
The bolting manifesto-
To Rebolt Railay and Tonsai with Titanium, creating a lasting safe solution.
Donations are very welcome- All donations will be recorded on this page.
All expenditures will be recorded on this page- so you can see exactly how your money is spent.
We will ensure every penny of your donation goes to putting Titanium in the rock.
This year we have finally gotten serious about rebolting. The new Titanium bolts are expensive (10 Euros) and they only come in batches of 500 once a year. The only way we can get everything done is via a co-operative effort. Shamick and Sam have done fantastic solo jobs so far, but it is just too much for one person.
King recognises the huge effort put in by climbers over the years and wants to help create a sustainable solution to the rebolting issues. To that end he is going to put all the proceeds from his guide book sales into the rebolting fund. He's already over spent on drills, glue and an initial 400 bolts and is working hard on a new guide book.
Rebolting is dirty, hard, time consuming work with little or no reward, particularly if you are rebolting other peoples routes. In order to get consistent results and to keep the momentum going, we will pay local climbers to rebolt. Currently Toto is rebolting. Volunteers are always welcome though- if you want to help out, give Toto a shout!
Donations
We take any amount for donations- anything is welcome! To rebolt one route costs about 150 Euros. If you are donating enough for a whole route, then you are welcome to specify which route you would like to see rebolted. Your name will also appear in the new guidebook as the route sponsor.
Fill in the form, and you will be taken to our secure payment page.
You can also donate by buying a guide book and adding a little extra to the payment.
Although it is possible to donate in person at King Climbers or through Shamick, we encourage you to use the online payment method so we can keep track and record everything in one place.
New Routes

---
We would like all new routes to be bolted in Titanium (please). Stainless steel bolts only last 1-4 years in Railay- after that they become randomly deadly. There have been far to many accidents already from breaking stainless steal bolts.
To this end we are providing titanium bolts in combination with the best glue we have found at cost price. You can buy the bolts and glue from King Climbers. If you are going to want allot of bolts (more then 12) then you should get in contact with us. We can only get bolts in batches of 500, from our international friends, who kindly haul them over here on their annual pilgrimage (thanks again guys)- So if you want lots of bolts, give us plenty of notice (6months) so we can organise it.
Any new routes put up not using Titanium will not go in the guide book, will not be rebolted and will be chopped as soon as they look sketchy (typically after 1.5 years)- sorry to say it like this, but national parks are now watching very closely and will close the climbing down if we give them bad press in the form of fatal accidents.
Accounts

---
Donations
| | | |
| --- | --- | --- |
| Name | Amount Baht | Date |
| King Climbers | 222,620 | 12/1/2010 |
| railay.com | 30,000 | 14/1/2010 |
| Stefan from Sweden | 10,000 | 14/2/2010 |
| Alison & Lyle from Canada | 32,640 | 07/5/2010 |
| Paul fron England | 400 | 03/3/2010 |
| Total | 295,660 | |
Expenditure

| | | |
| --- | --- | --- |
| Description | Amount Baht | Date |
| Hilti Drill | 38,000 | 4/1/2010 |
| Glue 1,060 x 4 | 4,240 | 4/1/2010 |
| Hilti cassette holder for the glue gun 440 x 2 | 880 | 4/1/2010 |
| 425 Titanium Bolts | 189,000 | 14/1/2010 |
| Total | 232,120 | |
Rebolting Diary

---
This is a random sketch of the work going on at the moment, getting the guys who are doing the work to take time to write about it is like looking for a boat when you are in a hurry...
ToTo
Rebolting Defile Exit- In progress
Rebolted Escher World- completed
Rebolted Pra-Nang Beach- completed
Rebolting Thaiwand Wall- In progress
Rebolting Sleeping Indian Wall- In progress
Shamick
Over on Phi Phi- last heard of rebolting the last pitch on Tonsai Tower- random excerpts follow:
> many anchors and dozen routes on tonsay/railay
> we are going up to the top of tonsay tower today working on rebolting
> the 7b
>> wish us luck
>> will sent you photo if all goes well
Rebolting Archive- Project Phi Phi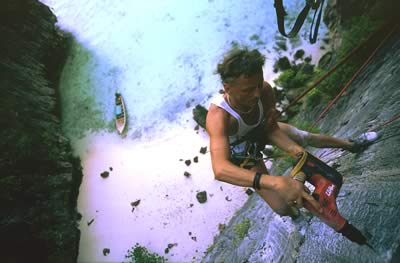 Shamick working hard on Pilee Wall on Phi Phi Island