Rock Climbing in Koh Yao Noi
---
2020 Update
Unfortunately the climbing on Koh Yao Noi has officially been banned a couple of years ago. Unofficially it's pretty ok to just go and climb there. Don't go on your own as you won't find any climbing partners. Best to go in a group so you can split the cost of the boats.
A new climbing area which has recently opened up is Koh Yao Noi- this is a bit of a gem- one of the best kept secrets of the area. Really should not be mentioning it at all, as too many people are bound to spoil it, but then again it's just too good not to tell...

There is an island about an hours fast boat ride away from Railay called Koh Yao Noi. Perhaps calling it an island is misleading, as it is really rather large, with several villages, roads and ferry terminals. The really good thing about it is that there are few tourists on account of there being no decent beaches. As a result the island has a rural atmosphere from about 50 years ago. Don't expect bars, restaurants or cafes, as the island is not really set up for tourists. Indeed the island is self sufficient and tourists are regarded with mild curiosity. The island is also very muslim, which accounts for the lack of bars and alcohol in general. People are conservative and dress accordingly. Everything stops 5 times a day for prayers, and the call of the mosque across the jungle gives a sense of rhythm to the tranquil surroundings.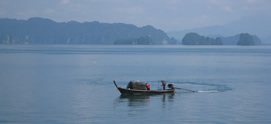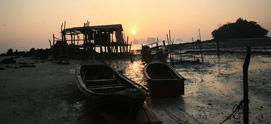 The climbing was started here a few years ago by Mark and various friends. Mark and Heather run Mountain Shop Adventures, a climbing shop in a great location 5 minutes walking from Tha Khao pier. Marks place is usually the first stop for visiting climbers. He has all the details on the routes and locations, and runs a great little bar and restaurant at his place very popular with climbers.
Getting there
---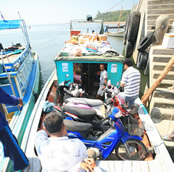 There are various options for getting there. Your destination is Tha Khao pier. Accommodation is a 5 minute walk from the pier. Those on a tight budget can use very cheap public transport the entire way. Check out the map at the bottom of the page for details.
For not very much more in high season you can get a fast ferry speedboat from Railay Beach right to the pier. The speed boat leaves once a day at around 9am and has to be booked the day before. Bookings can be made from Railay or Tonsai.
For those with too much cash, it's possible to hire a private speed boat from the beach, to take you when and where ever you like.

Accommodation
---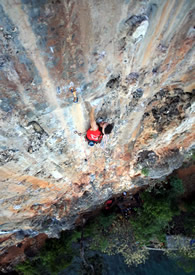 Have to say that I loved the accommodation. We stayed at Nam Tok bungalows. The owner is an excellent character who can sort you out bikes and beer. He has several bungalows some of which are more fancy then others. The prices were cheaper then Tonsai, and the bungalows themselves were perfect- Really simple well designed bamboo and wood, with a comfortable bed, great out door bathrooms, fan and balcony with a hammock. What more could you want!
Well things just get better when you sit down to eat. There is a basic communal eating area with suitable long table, and for a flat fee it's every man for himself. I have no idea how he does it, but he manages to produce a seemingly endless stream of delicious food (loads for fresh fish) from a tiny kitchen until the ravenous hoard of climbers can eat no more- fantastic! best food I had in Thailand! It's also really good to eat communally. No TV, great food, a large fridge full of cold beer and climbers from around the world makes for lively conversation!

The climbs
---
Climbers should pay a visit to the Mountain Shop. They can give you the low down on the current safety and access issues. They can also give you up to date route information and organise boats- very handy really!
There are two main areas where there is climbing. One you get to by motor bike, the other by boat. The variety of the rock and the locations make climbing here an unforgettable experience. A solid 7a climber would be able to tick the majority of the best routes with about 5 full days of climbing.
By Motorbike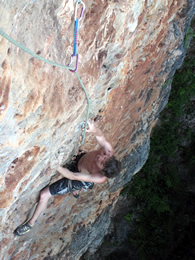 The getting there is half the adventure. It's about a 40 minute motor bike ride through jungly rural Thailand, on a mixture of tiny one lane and rutted roller coaster dirt roads. It's a totally beautiful ride. You're trying to get to Paradise hotel, a large tourist resort on what passes for the best beach. Follow signs to Paradise hotel, and failing that, follow the overhead power cables which fuel the beast. Once you get there you'll see a large bike shed. You MUST Park your bike there. Then politely
walk to your left, following a path/ the coast around. It's really
important to be very polite & unnoticed to the hotel and guests.
Access took a long time to negotiate and is at the hotels whim.
You need to follow the coast around about as far as you can go. Depending on the tide this will involve wading through bizzarly soft sand. When you get as far as you can go, you will find a jungle trail heading up. Hopefully you will have better directions then these from Mark, otherwise pick the most used trail and follow it up. After about 5-10mins it will come out at the first climbing area. We did not have time to climb here, but the reports are the climbs are ok. Further on there are some other climbing areas, and eventually you will get to a kind of cave with a rope running down and a hole in the top. Climbing up this slippery shite is not advisable- easier to go around to the right and bypass it via the nasty brittle razor rock and spiky shite.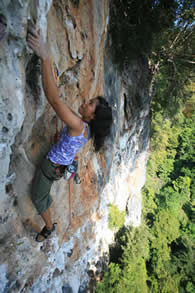 This will take you to another climbing area, which looks quite good. Further on, as far as you can go, you get to the final climbing area which is really good. By the time you get here
you will have expelled three times your body weight through the
sweat pores in you eyebrows alone, but it will be worth it. We only had time for two 6b+ multi pitches, with second pitches of four star pure pleasure!
You don't want to be negotiating the jungle in the dark, or riding the dirt roads in the dark, so keep an eye on the time..
There is a map at the bottom of the page which should give you a pretty idea on how to get there. It's areas 2,3,4,5 and 6 which I am attempting to explain, but you should go see Mark, get his guide, and things will become a lot clearer and easier...

By Boat
There are three areas accessible by boat (1,7, 8 on the map). These areas are easily the best three must climb! areas. Boats are expensive, and you are going to want one to hang around all day. Look to team up with whoever is around to make it affordable. Boats are arranged from the Mountain Shop, which
works well for everyone, as they can get you a good deal, and
co ordinate that you don't get 6 groups of people turning hiking
up through the jungle to a spot with 4 climbs...

Grateful Wall
About a 40 minute boat ride takes you to Grateful wall, and you will be Grateful that you came 'cause this place is 6b heaven. Every route on the wall is quality four star stuff. There is also a 6c and a 6c+ and a couple of 6a's all total quality! It's quite easy to spend an entire day here and start at one end and tick them all. You have to salute the guys who created this area with having done one of the best jobs ever- They have built access ladders, and even a bamboo belay platform onto the main ledge. Add in buckets full of titanium and salute them as the generous climbing gods they are..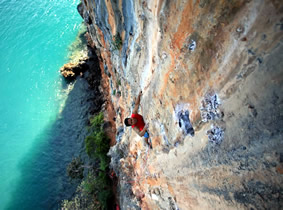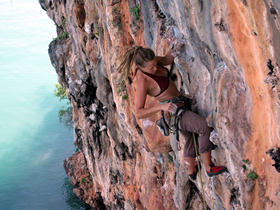 Then there is the watch tower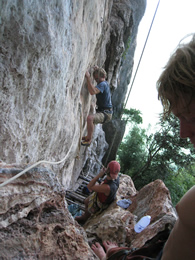 If you think they did a good job with the grateful wall wait till you see the watch tower. The boat jump off is into a slimy oyster infested crack. It's then a bit of a hike up various fixed lines over razor rock and scrubby jungle to the rock. At the cliff face there are a series of wooden belay platforms built over a large cataract. Very cool! A lot of work for not very many climbs, but then again these climbs are of an outstanding quality...
The rock itself is unusual, kind of smooth and pocketed, resembling swiss cheese found on the moon. Your fingers itch when you see it, and the urge to climb it is irresistible- shit my hands are sweating just typing about it!
There is a 4 star amazing 7b+ which is 30m of pure joy. Next to it is another 30m of amazing 7a+. I could quibble that it should have ended 3m earlier due to an overly hard and sharp crux at the end, (yes I fell off here) but that would be doing a disservice
to a truly great route. Then there is another 7a, and maybe a 6c,
which to my shame I can not report on due to a shortage of
daylight- but which also looked great....
The Hang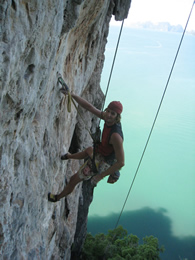 Unfortunately we did not get around to going to the Hang due to time constraints. The guys that went said the climbing was good, but hard... The island which the Hang is on looks particularly inviting and if you have the time would make a great place to explore, snorkel and have lunch.
Deep Water Soloing
You can rent Kayaks, stick them on the boat (too far for sane people to paddle), and spend the day exploring and DWS. It's gotta be one of the worlds top spots for it- The DWS is still very much frontier stuff out here, with few established routes and infinite possibilities. Make sure you check with Mark which islands do not have birds nest collectors on them, as these
guys *WILL SHOOT* you if you climb near nesting sites...

The Maps
---
Included are some excellent maps kindly drawn by ToTo. Please don't copy or reproduce these without his permission. These should give you a bit of an overview and taste for the place. You are still going to need to go see Mark though. With luck he will have published his guide, which will be worth getting as a means to help support the amazing amount of titanium he and his com padres have placed...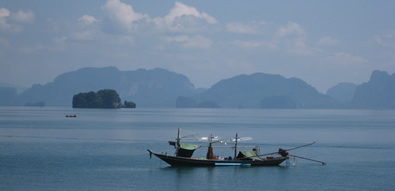 Grateful wall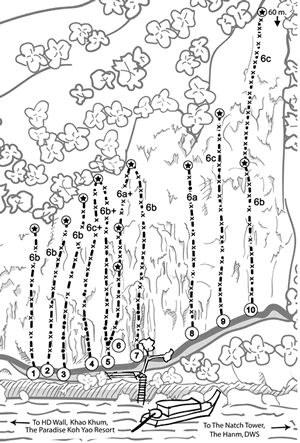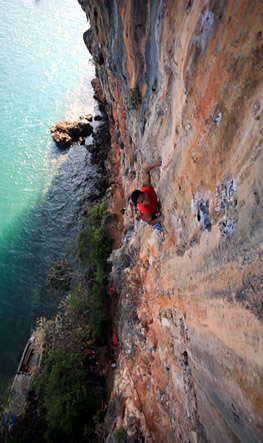 The Mitt wall