Deep Water Soloing Around Tonsai Beach Thailand
---
Deep water soloing (DWS) fever has hit Tonsai Beach this year and the excessively strong are now coming to pull hard on pristine rock over tropical waters.
In many ways deep water soloing is the next great frontier. All you need is a pair of shoes and an absence of fear and you can go put up 10 new "routes" a day. I reckon that as word continues to spread, Railay and Tonsai will become the center of a deep water soloing Mecca... .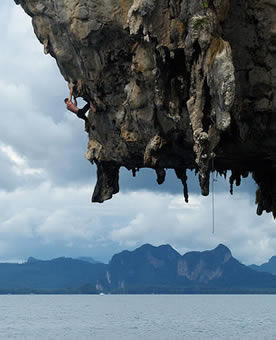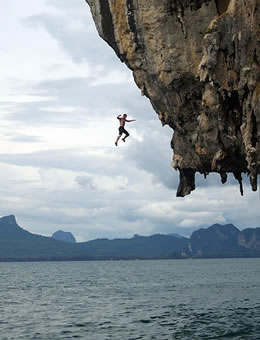 A couple of great shots shamelessly stolen from
David Prescots fickr page.
The guy must have testicles of steel..
Personally I've not had much direct experience of this, as quite frankly it scares the shit out of me. I've played on some of the lower stuff, but none of this is really in the spirit of this new form of masochism. On trips at the moment guys are climbing 30M+ and then jumping off- ahhhhhh just 5M scares me....
How to go...
Well this is trickier then it seems. Recently National Parks has banned deepwater soloing. Not that this really means anything, but it has driven it slightly underground. These days your cheapest option is to go and ask a boatmen directly. You are going to go for a half day, and you want to go at high tide. Make sure the boatman knows where and what you are doing and negotiate how many people are going and how much it will cost. The Tonsai boatmen at the right of Tonsai beach are your best bet.
Alternatively some guiding schools offer sporadic trips. Basecamp on Tonsai is probably your best bet. The advantage going with these guys is that there will be a guide who will show you the routes, they know where they are going and you can use their nasty shoes and chalk bags. The only downside is that it's kinda pricy...
Or you can always rent a Kayak and go adventuring....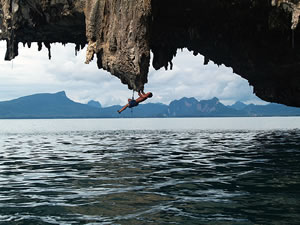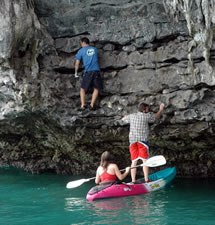 Access to the rock can be direct from a kayak (Basecamp usually takes one on their trips), or more awkwardly ropes have been hung in places, originally by the birds nest collectors or fishermen. Climbing the fixed ropes is harder then it looks, and if you are looking for the ultimate ab workout then this is probably it....
Most boatmen also have snorkeling gear for those who just want to hang out, watch and swim.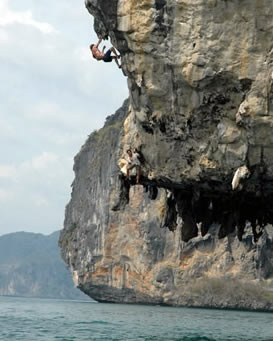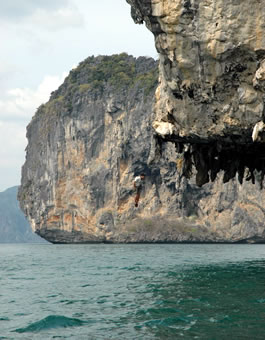 Just remember to keep your legs together, and your arms tight buy your sides, Other wise it can really hurt....
Once you've know where to go you could hire a kayak and spend the day working on any projects you may have discovered, or you may just want to spend your hours learning to walk on water....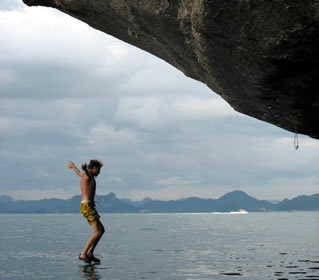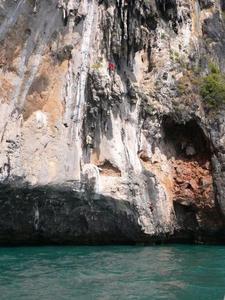 That red and blue dot at the top is Casey jumping. crazy bastard. (from chansoobak blog)
There is great potential for deep water Soloing all along the cliffs from Ao Nang to Tonsai. There are amazing roofs, which brush the water line for 20M before soaring to suicidal possibilities. Then there is a cornucopia of outlying islands and cliffs, virginal and waiting to be er climbed...
If anyone would like to contribute or add to this page then please email me any pics/ stories/ new routes to:
info atsign railay.com.
Below is a most excellent map of deep water Soloing around Tonsai beach which I found on Matt Maddaloni's site. He used to publish the map and a list of route descriptions, and now is selling his guide book. I've not read it, but if someone has- please email or post a review...