AoNang Thai Cookery School
---
Learn to cook traditional Thai Food at the AoNang Thai Cookery School:
The AoNang Thai Cookery school is Thai cooking at it's most authentic. Ever wondered how it's possible to produce 5 different mouthwatering dishes simultaneously using just one gas burner? Well now's your chance to find out....




After 10 years chefing in Thailands 5 star resteraunts, Sow indulged her passion for food and set up her cooking school in Aonang in 2001. It's even recommended in the lonely planet although I wouldn't hold it against her. I took her course and ate so much I could hardly move. Now writing it all up I feel the need for a 'refresher' course, just thinking about it makes me hungry....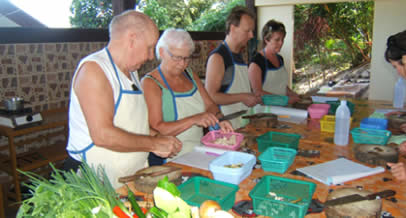 "Sow" has opened the Thai Cookery School in Aonang specifically aimed at teaching overseas visitors the secrets of Thai Cuisine. The school offers both one-day courses as well as special training opportunities on request for cooking professionals.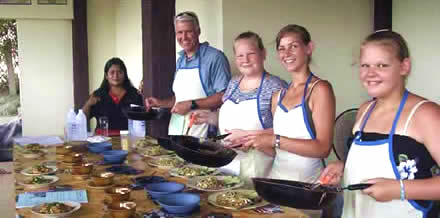 The one-day cooking course introduces the students to typical Thai vegetables and fruits, preparation of spicy Thai salad, and the dishes of classical Thai cuisine. After selecting the dishes you want to make, students prepare all the necessary ingredients. The cookery school is well equipped, with all utensils provided. The course is taught in english and includes:
Introduction to the preparation of various pastes and sauces extensively used in Thai cuisine. For example green curry, red curry and masaman curry.
Introduction to typical Thai Vegetables and Fruits
All ingredients. Fresh from Sow's garden or local market.
Hands on teaching. Sow can answer all your question relating to Thai cuisine and offer lots of useful hints.
Each person gets to cook dishes of their own choice.

Dishes can be adapted to a vegetarian diet or personal taste.
A cook book of the recipes you will learn.
You get to eat what you make, so bring a large appetite!
Cooking Course Details
---
The course is a bargain. For 1,000 Baht you could not buy a meal like this. The 1,000 Baht includes pick up from Ao Nang beach at 8.30am or 1.00pm. If you are staying in Railay, then you will have to make your own way to Ao Nang beach for pick up at these times. From Railay to Ao Nang beach it is a 15 minute boat ride. They are closed on Sundays. Try not to eat too much before hand, as the idea of the course is to eat what you make...
Morning Course Menu 8:30am-1pm- Pick any 5 Items 1,000 Baht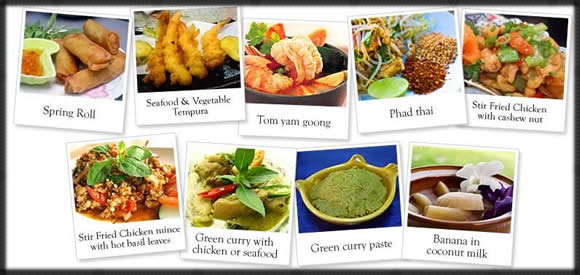 Afternnon Course Menu 1:00pm-5:30pm- Pick any 5 Items 1,000 Baht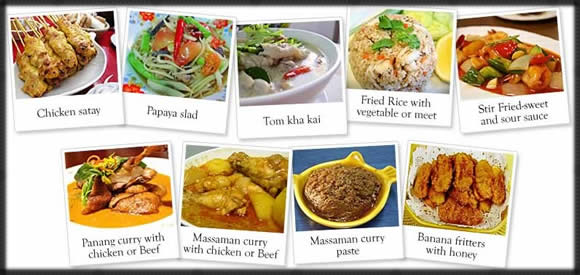 Dinner 6:00pm-9.00pm, Maximum 2 persons- 1,300 Baht


Special all day fruit carving course 2,500 Baht- 8:30-5:00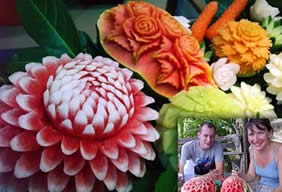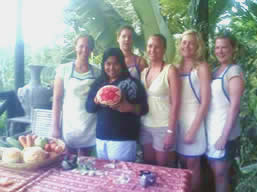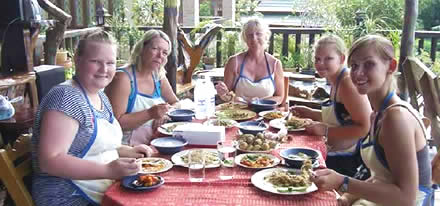 Booking
---
There are now several options for this activity available and there are many agents in Ao Nang, Railay and Tonsai who can make a booking for you.

Rather then arranging bookings in advance through our website, we have found that you will be better off just turning up in Railay and planning/ arranging these activities locally a couple days before hand