All Terrain Vehicles/ Quad Bikes & White Water Rafting
---
On hearing about white water rafting we decided to check it out. As it turned out we got more then we bargained for, ending up with an action day which included rafting, ATV's and an elephant ride for good measure- amazing what you can pack into a day-
The white water rafting
Not being aware of any great mountain rivers in Krabi we were a little skeptical, thinking we would get a glorified kayak trip- oh how wrong we were....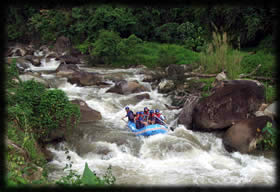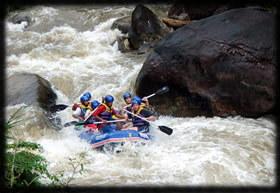 Turns out there is an old abandoned tin mine up in the hills. Apparently to mine tin you need large amounts of water. To this end a dam was built. This dam is now utilised by the rafters twice a day to let down a large amount of white water on which you can ride.
The boats are amazing pieces of technology which seem to be absolutely indestructible. There are two expert guides in the boat to steer you through and when I say expert these guys were really good. You all get a paddle, and paddle your arse off when instructed. The guides have a great sense of humor and rarely miss an opportunity to splash you, other boats or anything else which comes their way. I was initially rather concerned about their abilities as they seemed to have an uncanny knack of steering into the biggest rocks. Eventually I realised that was actually part of their game, getting the boat to bounce off the rocks, spinning around backwards before dropping into a pool of foaming whiteness- Great!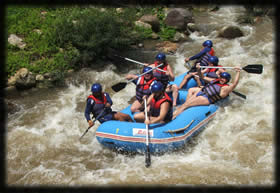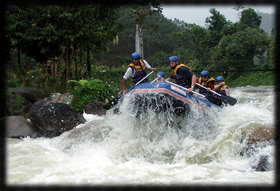 The river cut its way through forest and rural Thailand, which when you remembered to look at it was very pleasant. Unfortunately it was over way too fast, but luckily there was the option to keep on going- (we had only booked a 5km half a ride- the next 5km is optional for some extra cash) there was really no question but to continue on down, especially as the water got faster and bigger further down.. it was a blast!
I would definitely recommend the full river option- if you take the half river you are just going to end up doing it anyway-
They will take kids, they say 5 years and older, but kids are not allowed down the second half of the river. It would be a fantastic experience for kids, and I wished I had brought mine.
Bring bathing suit, cloths you do not mind getting drenched and sun cream. A towel would be handy as well.
Elephant Trekking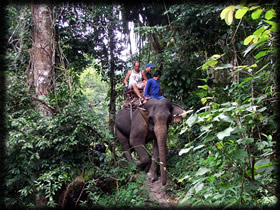 There was then the option for the frenetically minded to do a quick elephant trek. We spent this time relaxing before lunch, but those of our group who did go said it was fun.
Lunch was next, and it was very good, consisting of a variety of Thai dishes selected to appeal to those who do not like things spicy. From memory we had stir fried rice, omelets, sweet and sour chicken, some seafood and fried vegetable tempura- followed by fruit for desert- loads of food!
ATV/ Quad Bikes
Next was the ATV riding. This was more challenging then I had imagined. When they say all terrain they really mean it! The quad bikes were in pretty good shape and there was a huge variety of course options. The initial "training" course was fun but we quickly progressed to the "advanced" courses (group of keen climber guys that we were), which I have to say were pretty tough, very steep, through water and over a variety of obstacles. On the toughest courses I struggled to stay on the dam thing, particularly at speed.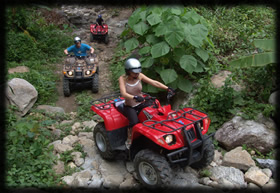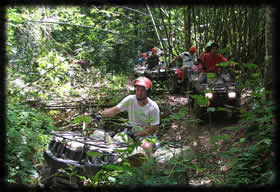 With practice you could pretty much go anywhere on these machines. The nice thing was that the instructors were very good at accessing your ability and selecting a course which would just push you to your limits- again great instructors.
There is a whole range of ATV options- from a basic introduction to a full day out in the jungle, including a packed lunch, waterfalls, swimming and who knows what else...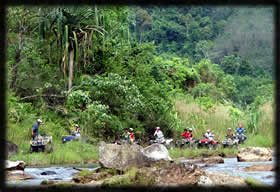 AoNang Pickup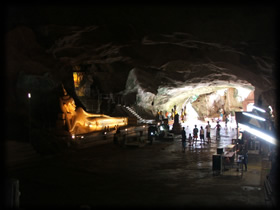 They will pick you up from your hotel anywhere around AoNang. If you are staying in Railay you will have to make your own way over to AoNang for an 8:30 pickup at the corner where you buy the boat tickets to Railay from. It's best to arrange your boat the previous day to avoid last minute stress.
It takes about an hour and a half to drive to the national park where the days activities will take place. On the way you will probably stop at the monkey temple, which as the name suggests is full of monkeys, not particularly special but not a bad break.
Pricing
---
There is almost and infinite number of permutations on offer here- if you would like to do something not listed, then just tell us what it is and we will get a price for you and book it. We would recommend booking ATV Plus Rafting 5km. If the conditions are right and you can go the full 9km then you can be sure that the guys will give you the option after your first 5km...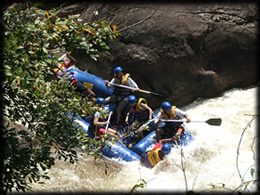 | | | |
| --- | --- | --- |
| | Adult | Child |
| Rafting 5km | 1,600 Bht | 1,300 |
| Rafting 5km+elephant ride | 2,200 Bht | 1,600 |
| Rafting 9km | 2,300 Bht | NA |
| Rafting 9km+elephant ride | 2,600 Bht | NA |
| ATV full day | 3,300 Bht | 2,000 |
| ATV 2 hours + Rafting 5km | 3,700 Bht | 2,800 |
| ATV 1 hours + Rafting 5km | 2,900 Bht | 2,200 |
| ATV1hr+rafting 5km+elephant | 3,700 Bht | 2,800 |
Lunch is included
Children are to be between 7 and 14, and have to share an ATV with an adult
These prices are probably a little out of date now- and are more of an indication...
Booking
---
There are now several options for this activity available and there are many agents in Ao Nang, Railay and Tonsai who can make a booking for you.
Rather then arranging bookings in advance through our website, we have found that you will be better off just turning up in Railay and planning/ arranging these activities locally a couple days before hand