Snorkeling around Ao Nang, Railay and Krabi
---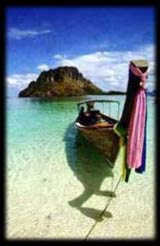 Back in the old days, the way to see the islands was to go on a camping trip in a longtail boat. They may be slow, uncomfortable and noisy, but there is nothing quite like it. We would love to be able to package and book this for you as a trip, but boatmen and longtails are a law onto themselves....
Arrange your own trip.
A great way to spend the day is to charter a longtail boat, and get the boatman to take you to some of the nearby islands and snorkeling spots. You can find a boatman by walking along the beach. You can expect them to provide a mask and snorkel of varying quality. The rest is up to you. The more people you get to come with you, the cheaper it will be.
Boy's Sunset trip.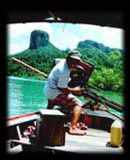 During high season Boy runs sunset longtail trips from the dive shops. These are great trips. Too unreliable to book online, your best bet is wonder into a couple of the dive shops and ask (try the one by Diamond Cave Resort). The trip consists of snorkeling in a couple of top spots, stoping off at the disappearing sandbar for a beach dinner and sunset to die for before getting the boat back in the dark to Railay Beach. Usually the boat will stop in a particularly dark spot so that you can jump out and swim in the surreal phosphorescence. Not to be missed if you get the chance....
Speed Boat Trips.
---
Longtails are being replaced by the new speed boats. This means you can get to greater number of islands in a short space of time comfortably. There are a number of these trips available and you can book them online. It's probably a good idea to book these trips in advance as there are a limited number of boats available in high season. The main operator out of Railay is Koh Phi Phi Tours. They are very friendly and reliable. They've operated a modest fleet of boats for the last 10 years. The trips they offer are shown below and can be booked from the form at the bottom of the page.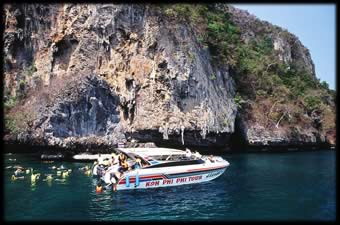 KB 01 Krabi 4 Island By Speed Boat
Great day out snorkeling, sightseeing and island hopping. Visit phra nang cave, Tup Island, Chicken Island and Poda Island. Picnic beach lunch and tropical Thai fruit in season, cake & water.
Pick up at Rai Lay beach at 9.20am. Back to Rai Lay beach around 2pm
Prices: adult 1000 Baht, child 500 Baht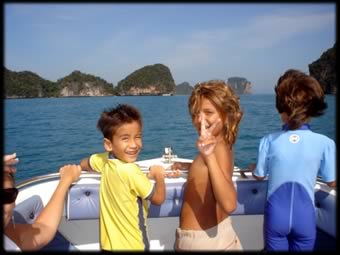 KB 02 Hong Island By Speed Boat
This "island of rooms" is a prefect escape and a must to visit. Renowned for its breath-taking beauty, shallow coral reefs and white sandy beaches. Visit the secret lagoon. A picnic lunch, fruit, water, cake and coffee. Loads of time for swimming and snorkeling. A short stop at Pakbia and Lading Islands.
Back to Rai Lay beach around 2pm. Pick up at Rai Lay beach at 9.20am.
Prices: adult 1200 Baht, child 600 Baht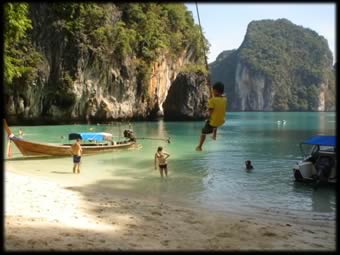 KB 03 Phi Phi Islands by Speed Boat
45 minutes to Phi Phi island, visit Ran Tee Bay in the open sea for excellent snorkeling, Bamboo Island, Monkey Beach, Maya Bay, Lohsama and Phi Phi Ley lagoon. Restaurant lunch at Phi Phi Don on a selection of Thai food.
Pick up at Rai Lay beach at 9.20am. Back to Rai Lay beach around 5pm.
Prices: adult 1800 Baht, child 900 Baht.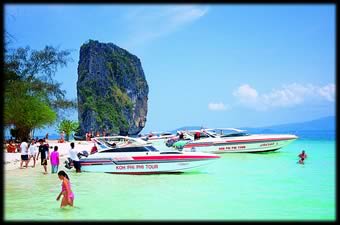 KB 06 Krabi Rainforest Discovery tour by van
Discover krabi's rainforest heritage traveling by Jeep to Klong Thom and Tiger Cave Temple. Pincic lunch and tropical fruits in season. Bathing in fresh water at the emerald pool and visit the Hot springs, waterfalls. A great educational and fun day out.
Pick up at Ao Nang beach at 8.30am. Back to Ao Nang around 4pm.
Prices: adult 750 Baht, child 500 Baht
Wild Life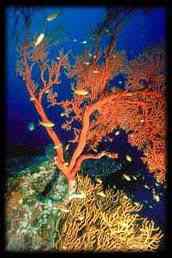 The pristine coral reefs are the home of thousands of exotic fishes. Floating over the clear waters you will feel like you are flying through a world of three dimensional colour.
Swim through luridly colored schools of tiger and parrotfish. Watch whole rocks explode in color as sea urchins blink out their patterns.
If you are lucky you may see the friendly leopard sharks lying on the bottom. At up to three meters long these amazing creatures are so docile that you can stroke them.
What To Bring
Strong sunscreen.
An old T-shirt to swim in to avoid sunburn
Some clothes to wear on the boat ride home
Miscellaneous beach items. (towels, mats, etc.)
Booking
---
There are now several options for this activity available and there are many agents in Ao Nang, Railay and Tonsai who can make a booking for you.
Rather then arranging bookings in advance through our website, we have found that you will be better off just turning up in Railay and planning/ arranging these activities locally a couple days before hand