Railay Beach & Krabi, where in the world?
---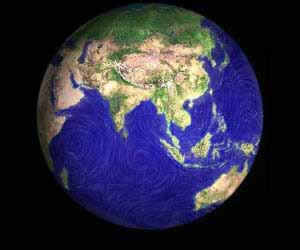 Railay Beach also known as Railey beach or even Rai Leh beach, is located in the South of Thailand. Use the zoom buttons to get a better idea of where we are in relation to the rest of the world.
You can fly around Railay with our new interactive maps, or try our Google Earth file.

Traveling to Railay Beach
---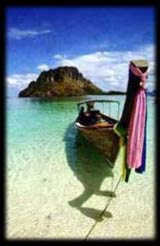 The first step is getting to Thailand. There are direct flights to Bangkok from most major airports in the world. From Bangkok you have to get to Krabi. You can catch a bus, train, or plane.
By Plane...
Krabi airport opened in 2000 and is flying to an ever increasing number of destinations. There is now even an international terminal. There are an ever changing number of combinations which fly internally and internationally to Krabi.
Most places provide you with transfers on request, but you will find it cheaper and very easy to arrange this yourself on arrival at the airport. From the airport a taxi costs about 600 Baht to Ao Nang. From Ao Nang it's a 15 minute boat ride at about 100 Baht per person to Railey Beach.
Fly To Krabi
These days there are regular direct flights from Singapore, Kuala Lumpur, Bangkok, Chiang Mai, Koh Samui and a few others, as well as a whole bunch of iregular charter flights. Your best bet is to have a look at someone like Kayak and compare. The main carriers are:
Thai Airways fly 5 times daily Bangkok - Krabi - Bangkok. Morning and afternoon flight. Now very easy to book online. They also tend to get very full.
Air Asia I hate these guys, they always find a way to rip you off and add extra costs at the last minute- but they can be cheap and convienant if you need to go via KL
Scoot Airways These guys are a little better then air asia and fly from Singapore.
Fly To Phuket
Just about everyone flies to Phuket from all sorts of places. It can often be alot cheaper then flying to Krabi. From Phuket airport to AoNang is about a 2 hour taxi ride around 3000 Baht. Book a taxi from inside the airport. You can also take the bus to Phuket bus station, then to Krabi, then to AoNang- but this is rather painful.
Krabi Airport to AoNang or Krabi...
You can catch the shuttle bus to AoNang (150 Baht) or Krabi (90 Baht)- The buses are timed to meet the flights. Buy the ticket from airport arrival hall.
You can also hire a taxi which will take up to four people to AoNang (600 Baht) or Krabi (350 Baht). There are booths inside the airport selling tickets for authorised taxis. You buy the ticket inside and will be pointed to a driver waiting outside who will take you to your destination in Ao Nang. The trip is a fixed price.
It takes about 40 minutes to drive from the airport to AoNang
By Train...
The train from Bangkok runs overnight to Surat Thani. The sleeper is comfortable and relaxing. You then take a connecting air conditioned bus to Krabi. This takes about 2 hours. All together it takes about the same amount of time as the bus, but you get to lie down and actually sleep. For timetables and online train booking check out the Thai railways site.
By Bus...
There are numerous buses going direct to Krabi. Buses range from local death traps to ultra luxury air conditioned super cruiser. It typically takes about 15 hours. It's cheap, but a little masochistic.
The last leg, Krabi Town to Railay, or Ao Na Moa or Ao Nang to Railay...
From Ao Nang Beach it's a quick longtail boat ride to Railay Beach. Boats run all day, and the beautiful boat ride from Ao Nang takes about 15 minutes. It's 100 Baht per person at the moment, randomly more after it gets dark. This is the place to get a boat during high season. The last boat leaves around 6pm. After that expect to pay a lot more (maybe 800 Baht for whole the boat).
During low season when the weather is rough, you need to get a boat from Ao Na Mao or Krabi. These days most boats go from Ao Na Mao and it's only 15 minutes from there to Railey Beach East. Boats from Ao Na Mao now run untill midnight all year around.
From Krabi it takes about 45 minutes. Boats are caught from the pier in Krabi, but they are infrequent.
If you want to get to Tonsai Beach
You can get a boat directly from Ao Nang to Tonsai beach (it's the same boat that goes to Railay, they just drop you on the way). If at all possible, try and time it when the tide is high to avoid walking through the mud.
In low season or during a big storm, the boats won't go to Tonsai beach- instead you will have to catch a boat from Ao Na Mao to Railay East, then walk to Railay West, then take the slippery jungle path of death at the right hand end of the beach (about 15 min when dry) to Tonsai... A pain- but it is always worth it!
Ferry Timetables- boats to places you want to go...
---
Accurate time tables are hard to come by, if they even exist at all. We've been around collecting what we reckon is the most accurate, and are happy to pass along our findings.... The Ao Nang Princess Ferry is a medium sized island hopper type boat. It probably takes a couple hundred people.
Bookings can be made at any local travel agent. This site looks good for bookings and it gives you a nice idea of all the routes. There are also fast speed boats going from Railay to just about anywhere- including Koh Yao Noi- Best to book these at the local travel agents in Railay, Aonang or Tonsai- the prices are all about the same.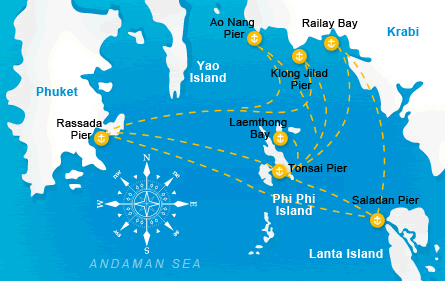 During May to October is monsoon season. Sometimes the seas get quite rough and ferry's are cancelled. They then take you by road. (If you're going to Phi Phi you'll just have to wait...)
| | |
| --- | --- |
| Phuket - Ao Nang 500 baht | Ao Nang - Phi Phi 350 baht |
| Phuket - Phi Phi 500 baht | Ao Nang - Lanta 380 baht |
| | |
| --- | --- |
| From Phuket | Time: Dept – Arrival |
| Phuket to Ao Nang Beach | 8.30 - 10.15am |
| Phuket – (pass Ao Nang) – Railay Beach | 8.30 – 10.45am |
| Phuket – (pass Ao Nang & Railay Beach) - Lanta | 8.30 – 12.45am |
| Package – Day trip to krabi | 8.30 – 17.15pm |
| | |
| From Phuket | |
| Phuket – Phi Phi Island | 8.30 – 9.30am |
| Package – Day trip to Phi Phi Island | 8.30 – 16.00pm |
| | |
| From Ao Nang Beach | |
| Ao Nang – Phi Phi Island | 9.00 – 11.00 am |
| Ao Nang – Lanta Island | 10.30 – 12.45 pm |
| Ao Nang – Phuket | 15.30 – 17.15pm |
| Package – Day trip to Phi Phi Island | 9.00 – 17.00pm |
| | |
| Package – one day tour 4 island | 10.00 – 15.30pm |
| | |
| From Railay Beach | |
| Railay Beach – Phi Phi Island | 9.15 – 11.00am |
| Railay Beach - Lanta | 10.45 – 12.45pm |
| Railay Beach – Phuket | 15.15 – 17.15pm |
| | |
| From Phi Phi Island | |
| Phi Phi Island – Phuket | 14.30 – 16.00pm |
| Phi Phi Island – Railay Beach | 15.30 – 16.45pm |
| Phi Phi Island – Ao Nang | 15.30 – 17.00pm |
| | |
| From Lanta | |
| Lanta – Railay Beach | 13.30 – 15.15pm |
| Lanta – Ao Nang Beach | 13.30 – 15.30pm |
| Lanta – (pass Railay Beach, Ao Nang) - Phuket | 13.30 – 17.15pm |