Railay Beach Hotel Review
---
Railay Beach has only a few hotels. This is a good thing, as it limits the number of people you have to share the beach with. However, during high season it is difficult to get a room. It is essential over the Christmas period that you book several months in advance.
Some Changes
In recent years we are finding that it is very hard to stay in business when competing with multinationals such as booking.com. So we are now going to scale back and focus just on Climbing bookings. I have left up a review of some of the options available so you can get an overview of the place.
If you do have a special request though, we will still do our best to help you out.
We've put all the hotels onto an Interactive map, so you can get more of a feel where things are.
Hotel Low Down
---
If you are feeling a little overwhelmed by the choice, then maybe this will help....
First off, none of the hotels rooms are absolute beach front. The hotels pools and restaurants front onto the beach. Secondly Railay is small. You can walk anywhere in about 15 minutes.
Sand Sea, Railay Bay, Sunrise, Railay Village and Railay Princess have all been developed from bamboo huts to air conditioned hotels. Each year they all try to out do each other by becoming more like a five star resort. These days they run a pretty close race, all have the standard mod cons- Pool, AC, Cable TV, Mini Bar, wifi etc, and are new and friendly. Occupying Railay's central area. This is the "top end" accommodation in Railay.

Sand and Sea
Sand and Sea has been revamped in 2013. It is now a very nice place to stay, large lovely gardens, and decently spaced bungalows. The new bungalows are pretty impressive, with enormous beds wider then they are long, large open rooms with novelty lighting, very nice bath tub with jets and toys- and an excellent shower. The resort now has two pools, a nice large pool at the front, and a new even nicer bigger one in the middle. This revamp puts Sand and Sea on par with Railay Village, as some of the largest most modern rooms on the peninsular.
Bridge Beach House
The Beach houses are privately owned wooden houses on a very nice and large piece of land owned by a group of private individuals. The houses, each built to the taste of their owner, range from cozy cabins to larger jungle retreats. All are extremely lush and very private. Some of these houses are for rent. This is ideal for anyone who prefers something a little more real then sanitised air conditioned hotel rooms.

Railay Village
Rebuilt from scratch in 2007 and yes they have done a fantastic job. There are two pools, both enormous and both with bubbles, jets and features to make you go ahhhh- impressive pools... If the pools don't grab you the bungalows will. Spaced sensibly for privacy, surrounded by individual water features and gardens they are impressive. Internally they get better- lots of hardwood and clever lighting. The bed is huge and comfortable and the shower hot and powerful. There is also luxury double bath/ Jacuzzi thing. The bungalows all come with DVD players, but no DVD's- so buy some in AoNang (all the latest movies for almost nothing) or bring your own if you are into them. The cheaper bungalows are also nice, but once you've seen the luxury ones...
It is unfortunate that despite having the best pools, they are let down by water quality- this is not always great, but hopefully they will fix it. The other thing they are let down by is their service and restaurant. The rooms get four and half stars but the service and restaurant remain one star. The service is not bad as such, it just is not really there...

Sunrise
Sunrise was the first hotel to go from bamboo to luxury. They were built a few years ago now (1999?), but the people that designed and built them put in a great deal of thought, care and love into them. Because of this they have aged very well, actually becoming more attractive as the gardens have grown up, and their exteriors have mellowed. They were built at the time before the crowds, so the bungalows are generously spaced giving you the feeling of privacy, even seclusion. The pool was the first one in Railay, and is pleasant but modestly sized. The interior of these bungalows are fantastic. Fitted out in hardwood to last, it is the little details which got me- Its not flashy, but built and equipped for comfort- The sort of thing I am talking about is the bath tub- It's not a flashy spa bath, all bubbles and hard edges- it is more like the comfy sofa you've always wanted, but with water in it- The back is contoured and it even has arm rests and a place where you can put your book/ drink- They even have an incense/ oil burner to set the mood- and a very fancy retractable shower head to play with. I wish I knew where they got them from- as I want one in my house....
The only downside of these bungalows is the number of steps you need to negotiate to get to the toilet- trying to find the toilet at night in the dark is an exercise in pain. The top tip is to leave a light on in the bathroom... Other nice touches include having a variety of pillows of different thickness to choose from, a huge very comfortable bed- tastefully understated decor- Oh and the best breakfast buffet in Railay! All in all this is one very well run establishment, and at the price is a bargain.

Railay Princess
This is one of Railay's new resorts, and is one huge three story building. Despite that, it is surprisingly nice. The landscaping is great, and the outlook onto cliffs, jungle and the water features impressive. The rooms themselves are large, well furnished, tastefully decorated and well, very nice... Huge extremely comfortable beds. The fairly modest swimming pool is beautifully done and even has a diving board. At the price it is a pretty good deal, although the only thing that would make you pick it over Sunrise is the pool....
Railay Bay
Railay Bay has an extreme variety of rooms so it is rather difficult to review. They have recently rebuilt their central area into upper mid range "privacy" blocks. This will appeal to some and not others- The privacy cottages are a series of walled off bungalows. The bungalow and it's garden are walled off from each other by a 7 foot wall. If I were to be cynical then I would say this is a way for them to cram in as many bungalows as possible, however If you like your privacy then this may be ideal. Internally the bungalows are new and very nice, people who have stayed there love them.
The Deluxe building is very much like the Railay Princess in design- the rooms are nice and spacious and look out onto the common gardens. I think these rooms are pretty good value, and would recommend them.
The Deluxe Cottages were completed in November 2009 and are the latest addition to the resort. These rooms are a massive improvement over the old ones. I think they are probably one of the best value up market rooms on Railay. The balcony's are generous, the garden setting pleasant, all in all a good effort.
Railay Bay Cottages- these are actually very nice, in fact some of the nicer accommodation on Railay, and about as close to the beach as you can get these days. They were built in response to Sunrise, but are bigger and fancier. They are a slightly older equivalent of Railay Villages new bungalows, and although expensive, I would still recommend them.
Railay bay now has 2 pools. The front pool is right on the beach, and does that infinity pool thing. The other pool is large brand new and in the middle of the resort- also very nice. These pools are probably the cleanest in Railay.
Diamond Cave
Is on the cheaper side of Railay (Railey East side). It has some of the quality of the other resorts, but is further from the beach and more affordable. It has a modest pool with great views of the surrounding cliffs. It's surrounded by other backpacker accommodation, none of which takes reliable reservations. This is most suited to slightly up market backpackers. Family's tend to get offended by the randomly none existent levels of service. For the price you should get better service, but well, you don't...

Anyavee Resort
Is on the cheaper side of Railay (Railey East side). This is just before Diamond cave of the site where Cocos used to be. Built a couple of years ago, it has recently opened. There are a variety of bungalows on offer, the best value ones I think are the wooden bungalows. These are an interesting combination of old style with new. That is they are pleasantly roughly finished, but contain luxuries such as AC and hot water. If they were to skip on the AC and be about half price they would be perfect... They are still good, but feel a little over priced. The pool is ok, and the breakfast pretty good (they have bacon). The staff are friendly, and the place has a kind of family run feel about it, not terribly efficient, but well meaning. Best described as up market back packer.

Railay Garden View
Another new addition to the East side, this is one of the cheapest and perhaps better budget options available on Railay. Finished in 2009, and hidden away past the Last Bar, these are very pleasant bungalows. That is to say they are old style wooden bungalows with little more then a fan and a bed, but a good bed, and a great design. They are far away enough from everything to be quiet and detached for the high season bustle, as soon as you climb the steps up into the resort, randomly built into the jungle hillside, a sense of calm and slowness descends upon you. This is really an old style backpacker place, built with quality materials. It is still a little pricey for the budget backpacker, but then again so is everything on Railay these days.. This is however one of the furthest places from the beach (10-15min walk), and access to it is interesting to say the least... Being past the Last Bar you have to pass right through the bar, indeed through their storage area before gaining the path home. When a party is in full swing this can be a surreal experience, perhaps even more so in the morning as you negotiate your way over the odd unconscious body- kinda adds to the experience though... All in all recommended for those who want to get back to basics in a peaceful clean setting.
Tonsai Beach Resort
Is on Tonsai Beach, a 15-20 minute hike from Railay Beach. Tonsai Beach is where all the climbers and backpackers stay in high season. It's the most reasonably priced area, with a large range of budget accommodation. Tonsai Resort is air conditioned, and almost the only place which takes reliable bookings on Tonsai Beach. The rooms are large, clean and functionally furnished. The power in Tonsai tends to be randomly sporadic, so you are probably not going to be sitting inside all day watching cable TV- why would you?
Dream Valley Resort
Is on Tonsai Beach, a 15-20 minute hike from Railay Beach. Tonsai Beach is where all the climbers and backpackers stay in high season. It's the most reasonably priced area, with a large range of budget accommodation. Dream Valley Resort is air conditioned, and now the second place which takes reliable bookings on Tonsai Beach.
Dream Valley has gone for broke in 2013, putting in Tonsais only rather nice pool, and new luxury bungalows (note- this is luxury by Tonsai standards, and not comparable to Railay Bay/ Railay Village etc). The rooms are large, clean and functionall. Lots of concrete and minimum finishing. The power in Tonsai tends to be randomly sporadic, so you are probably not gonna be able to sit inside watching TV or chilling in the AC. But for the climber with some cash- this is almost too tempting- did I mention the pool?
AoNang Hotels
No surprise that the Ao Nang hotels are all in Ao Nang, 15 minutes by boat from Railay. The hotels we have included are what we think the best options are. Ao Nang has become a busy place over the last couple of years. Although half the price of Railay, mostly people stay in Ao Nang when Railay Beach is booked out.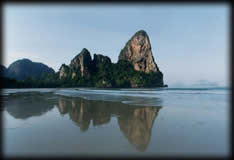 Railay Bay


Registered with the Tourism Association of Thailand (T.A.T.)