Booking rock climbing courses in thailand

---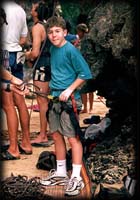 If you wish to make a direct booking please fill out the form below. We will process the booking and confirm the dates via e-mail. This takes approximately three days. If the dates you have selected are unavailable we will e-mail the closest possible available vacancies.
Courses start at 9am or 2pm on Railay beach. Pickup times for the courses are 8am/ 1pm for Aonang, or 7:30am/ 12:30pm for Krabi and Klong Mong
Hotel pick up from the Krabi/ Ao Nang area can be arranged for 200 Baht per person.