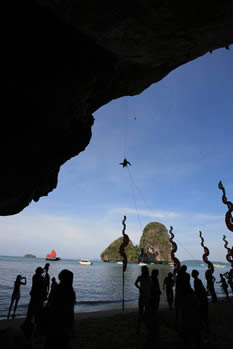 In April, Railay and Tonsai held their second annual "Krabi rock and fire" climbing competition. This year was huge! There was a massive turn out and the event was fantastically well organised. With TV and press coverage the event is starting to become known through out Thailand.
The event was the brain child of ToTo who seemingly limitless energy turned an idea into a massive event sponsored by Krabi Provence to a tune of a million Baht. As well as impressive prize money and lucrative work for the local business, the million odd baht which Krabi put up also paid for the rebolting of several routes.
We've put together a photo montage of the event to give you a feel for it- There were three days of competition, Day 1 was Railay, Day 2 Tonsai, and Day 3 was Deep Water soloing-
Needless to say, much rock was climbed, chalk spread and sweat sweated- The result was fun had by all- Who one and who lost? Well you're gonna have to turn up yourself to find that out....
Next year will be even bigger!

Day one on Railay Beach

---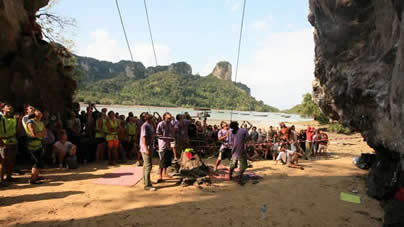 123 looking even more popular then usual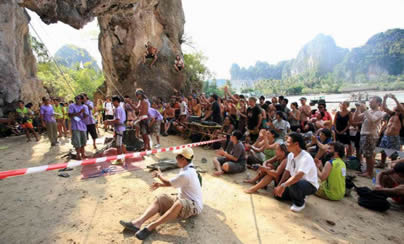 Purple Belayers and Green competitors- This years competition was extremely well organised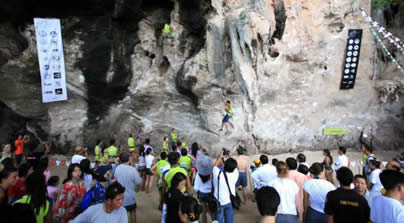 The competition hot's up on Phra Nang Beach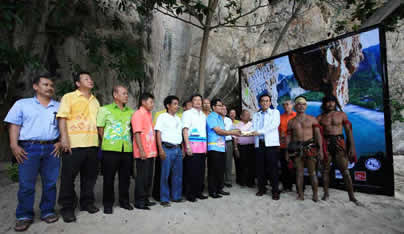 Master Climbers Tex and Wee- Still unfeasibly strong preside.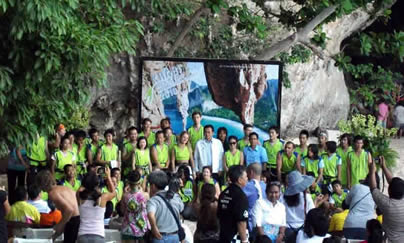 The competitors pose for a photo op on Phra Nang Beach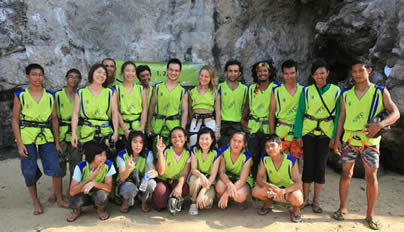 123 Smile!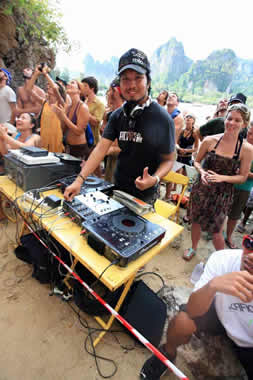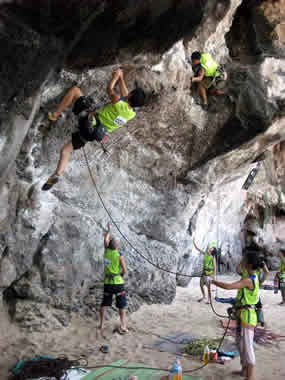 Spinning some tunes over at 123- It was a great setup!
Day Two on Tonsai Beach

---
Day 1 may have felt hard, but it was just a warmup for Tonsai...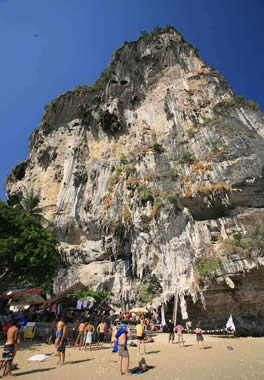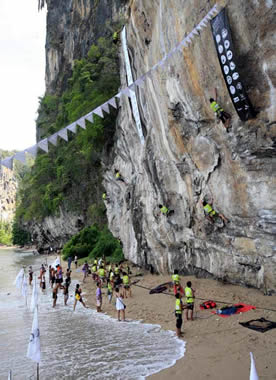 The lead marathon continues and the tide waits for none..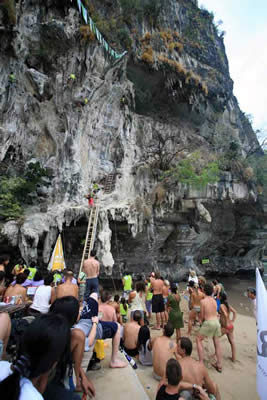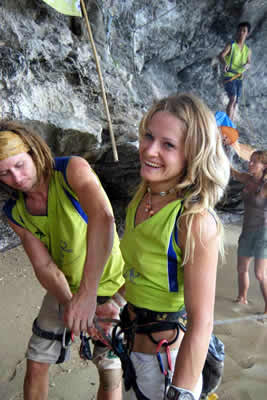 The circus continues, and TJ, dreads still attached does what he does best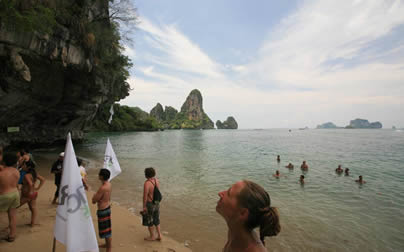 Best way to watch it has gotta be floating on your back...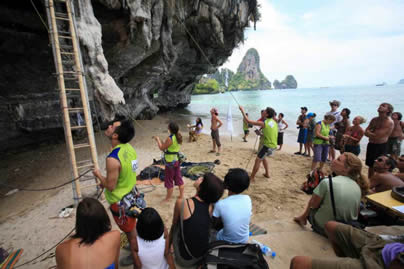 Then again Freedom bar and a Margarita is a pretty good option too!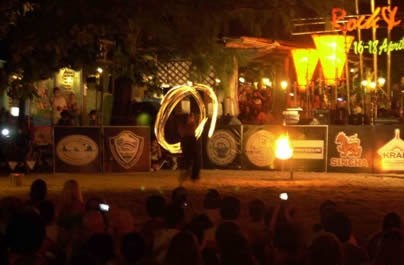 At the end of day 2, another great party and fire twirling competition
Day Three Deep Water soloing

---
Never been great at this myself- always too dammed scared! This was particularly well organised, complete with viewing barges and loads of support. Must be one of the best places you could hold a DWS competition, and the competitors did not disappoint, getting stomach churningly high....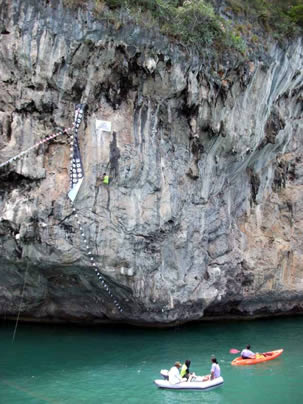 That's gonna hurt when he lands...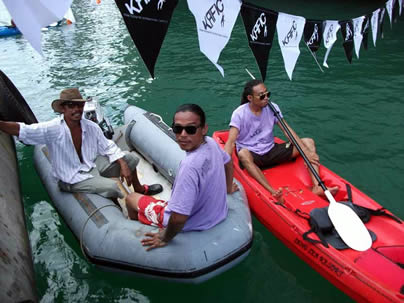 Some familiar faces helping out, Loung and Ron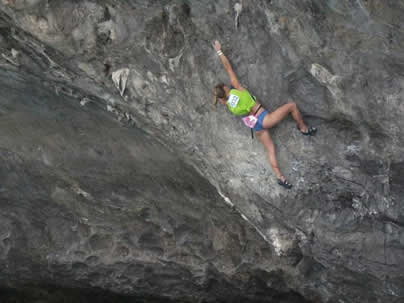 Pulling hard..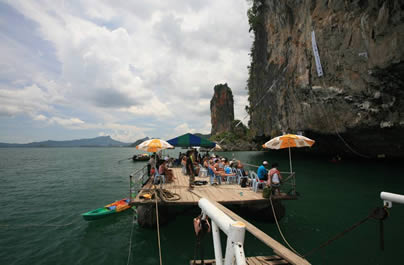 Fantastic viewing/ judging platform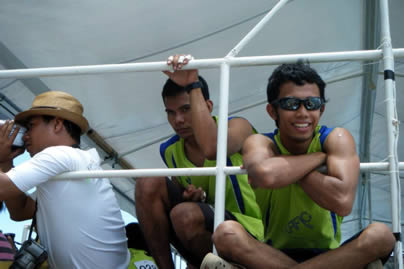 The Boys get ready...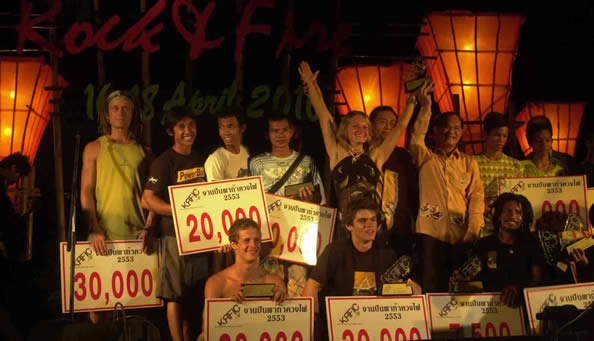 At the end sunsets and another great party!


See you next year!