Railey Beach Princess Hotel

---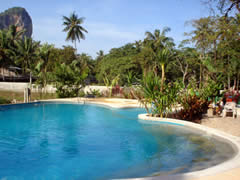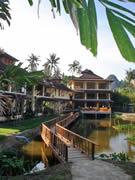 View of the pool and the resort
Welcome to Railey Princess Resort situated on Railey Beach. The Princess Resort is in the middle of Railey peninsular..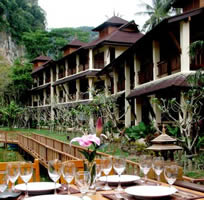 Princess Resort is one of the better hotels on Railey Beach. Almost on par with Railay Bay and a lot better then Diamond Cave. It is good value. Built on a thin sliver of land in the middle of the peninsular, the aspect is surprisingly pleasing. All rooms look out onto the pool, pond and the jungle beyond. Limestone cliffs rising out of the jungle complete the picture.
The facilities are great, and the feedback from customers has been good. The rooms are airy clean and modern and the staff friendly and helpful. One of the better value hotels on Railey Beach.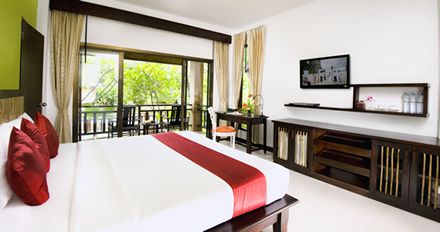 Brand new nice airy spacious rooms
The Railey Princess Resort offers the following facilities: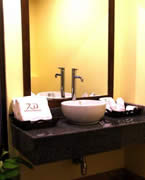 Restaurant, Tour Desk, Conference and banquet rooms, Money exchange and safety deposit box.
The large swimming pool is the only one in Railey to have a diving board. It also has a kids pool.

Each room has individually controlled air con, local and satellite TV, IDD telephones, refrigerator with mini bar and tea & coffee making facilities.
Baby sitting and a baby cot are available on request. The rooms are very pleasant, light, fairly large with good views. The bed is enormous. All in all a nice place to stay.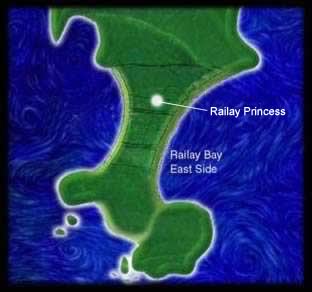 Location
Railay Princess Hotel is right in the middle of the peninsular. There are many different ways to get there, and it can be a little confusing. People are friendly though, and you can always ask for directions... If you are coming from Railay East/ Sunrise side, the easiest way to get there is to walk through the construction of what used to be Ya Ya's. Princess Hotel is directly behind the construction.
If you are coming from Railay West/ Sunset side, then the easiest way to get there is to walk through Flame Tree restaurant. There is a path behind the restaurant which will take you over a grassy bit, followed by some trees. The hotel is through the trees....


Waree Spa

---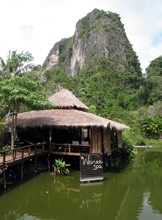 It is worth mentioning the Waree Spa, because of all the Spa and Massage places around Railay this is one of the most pleasing and pleasantly situated. It is built on the water feature as a wooden open old style spa, and it is beautiful in it's simplicity and style.
The whole experience is not to be missed- It starts with a welcome drink while the girls wash and massage your feet in a refreshing foot bath. You then change into some remarkably comfortable cloths and lie down on a decent massage bed for an hour of bliss. They have a range of massages and treatments- all I'm sure good- I got the Thai massage, and having had many over the years, I can recommend this as one of the better ones. All the therapists are Bangkok trained, experienced, and well very good- It is more expensive then a beach massage, but you get what you pay for- If
you enjoy being pampered in a beautiful setting then
this is not to be missed!
Railey Princes Resort Prices

---
High season 1st Nov 2013 - 30th April 2014
| | |
| --- | --- |
| Deluxe air con double/twin Room | 3,950 Baht per night |
Peak season 20th Dec 2013 - 10th Jan 2014
| | |
| --- | --- |
| Deluxe air con double/twin Room | 3,950 Baht per night |
* Prices include breakfast
* Children under 9 sharing a bed with parents are charged 200 Baht per day.
Transfers / Transport
Transfers from Krabi airport to Railay Beach are available for 1500 Baht each way for a mini bus which holds up to 8 people. Transfers are also available from Phuket airport to Railay beach for 3500 Baht each way for a mini bus which holds up to 8 people. After 6:00pm there is an extra 200 Baht charge per transfer.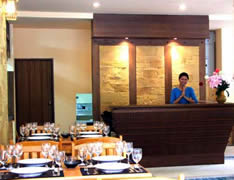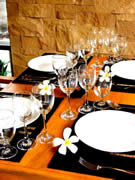 The restaurant looks out onto the pool and jungle. Glad I don't have to wash all their glasses!
Booking

---